Description
Edit
Front
Side
Back
Front
Side
Back
Male
Female
Made by the Embroidering Master of Jiangnan.
Base stats and information
Edit
Bound Type
Bound after being equipped
Slot Worn In
Clothes
Quality
Wood
Gender
General
Defense
34
Bonuses
External Parry increases marginally.
Upgrades

A level Poisoning Expert Poison Maker's poisoning skill can add a special effect.

Required Materials: Killing Stone X5

Cost:10 Liang in Silver Taels

Disassemble Status
Can be disassembled
Selling Status
Can sell
Selling Price
2 Liang 4 Wen
Created by characters with the Tailor life skill using the White Cloth Overclothes Book formula.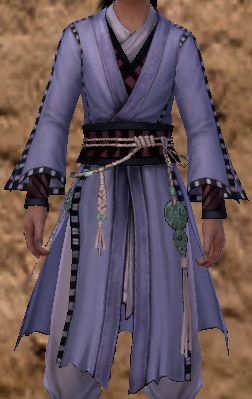 Ad blocker interference detected!
Wikia is a free-to-use site that makes money from advertising. We have a modified experience for viewers using ad blockers

Wikia is not accessible if you've made further modifications. Remove the custom ad blocker rule(s) and the page will load as expected.