Ad blocker interference detected!
Wikia is a free-to-use site that makes money from advertising. We have a modified experience for viewers using ad blockers

Wikia is not accessible if you've made further modifications. Remove the custom ad blocker rule(s) and the page will load as expected.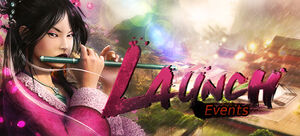 The Launch Events are a series of events that occurred during the launch of Age of Wushu on the White Tiger, Black Tortoise, and later Red Phoenix servers.
Event 1: Early Character Creation
Edit
| | |
| --- | --- |
| Duration: | April 5–10, 2013 |
| Details: | Use the Early Character Creation service to create a character for the New servers and receive a pill to jumpstart your training. |
| Rewards: | Pure Chi Pill (+100% Chi conversion) x 1 |
Event 2: Pony Up!
Edit
| | |
| --- | --- |
| Duration: | April 10–21, 2013 |
| Details: | Create a new account and receive a free mount to hasten your travels. |
| Rewards: | Dawan Horse (14 days) |
Event 3: Jet Li - Fight the World
Edit
| | |
| --- | --- |
| Duration: | April 10–28, 2013 |
| Details: | Plunder Treasure Boxes in search of rare coins to complete your collections and then redeem them at a local city's Ritual Minister NPC for valuable items. For more information, click here. |
| Rewards: | |
Event 4: Quest Challenge
Edit
| | |
| --- | --- |
| Duration: | April 10–21, 2013 |
| Details: | Accept a Twilight Village Challenge quest from a local city's Ritual Minister NPC (limit 3 per each quest for 1 day) or accept a quest from a starting town's Provincial Treasurer NPC and learn a Life Skill from the Gathering, Crafting, Culture or Market groups to earn a Life Skill Scripts. |
| Rewards: | |
Event 5: Online Reward
Edit
Duration:
April 10–24, 2013
Details:
Do whatever you want in Age of Wushu! Remain online long enough to improve your rewards, including prized Jianghu Tokens! Redeem Jianghu Tokens at a local city's Event Ambassador NPC in batches of 7, 14, or 21 to receive gift packs.

What is Jianghu Token? Jianghu Token x7, x14, x21 which corresponding to 1, 2, 3 weeks online for every day more than 1 hour 45 minutes, you will be able to exchange gift in "Reward Giving" NPC in all cities, x7 small gift pack, x14 medium gift pack, x21 premium gift pack.

Rewards:
Event 6: VIP Daily Reward
Edit
| | |
| --- | --- |
| Duration: | April 10–28, 2013 |
| Details: | Become a Jianghu VIP! VIP member receive free Reputation, Cultivation and Fashion Clothing. |
| Rewards: | |
Event 7: Opening Weekend Log In
Edit
| | |
| --- | --- |
| Duration: | April 12–14, 2013 |
| Details: | During the time window on the Launch weekend, players will be rewarded for being continuously online for two hours daily. |
| Rewards: | |
Event 8: Guild Mate
Edit
Duration:
April 10–24, 2013
Details:
Join OR Create a Guild and earn rewards.
Rewards:

Refined Secret Device Box (7 days) x 1
Refined Item Pack (7 days) x 1
Refined Storage Box (7 days) x 1
Refined Item Box (7 days) x 1
Event 9: New Adventures
Edit
| | |
| --- | --- |
| Duration: | April 10–24, 2013 |
| Details: | New players participating in events and reaching goals for the first time earn rewards for their bravery and Achievements. Refer to the Table Below for the challenges a beginner should seek. |
Event 10: First Topup
Edit
| | |
| --- | --- |
| Duration: | April 10–17, 2013 |
| Details: | Make your first top up of at least 10 gold and receive a bonus item! |
| Rewards: | Pure Chi Pill x 1 |
Event 11: Accumulate to the big one
Edit
| | |
| --- | --- |
| Duration: | April 10–17, 2013 |
| Details: | The more you top up in a single day, the bigger the reward!Achievable daily. |
| Rewards: | |
Event 12: Become VIP
Edit
| | |
| --- | --- |
| Duration: | April 10–25, 2013 |
| Details: | Top up 30 days of VIP and get a bonus! |
| Rewards: | 7 days of VIP |
References
Edit