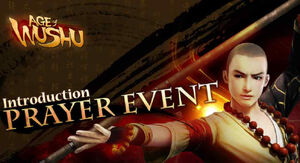 This is a part of the 2012 Christmas Events. This specific event took place from December 22, 2012 to February 8, 2013.
How to Pray
Edit
While in-game, click the Red Lantern (pictured left) on the right-hand side of the screen
If you are a VIP member, you may select either Heartfelt Prayer or Sky Lantern Prayer (all players may select Sky Lantern Prayer), however, if you are not a VIP member, it will cost 20 Tael. Both prayer methods allow the player a chance to obtain the items below:
Possible rewards
Edit

During this event, you can go to the NPC Qian Fugui and click the Exchange button to trade Wish Knots for treasure, gifts, and materials.
Materials
Edit
Martial Art Books and ruined books
Edit
References
Edit
Ad blocker interference detected!
Wikia is a free-to-use site that makes money from advertising. We have a modified experience for viewers using ad blockers

Wikia is not accessible if you've made further modifications. Remove the custom ad blocker rule(s) and the page will load as expected.