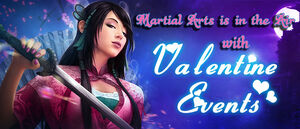 Event 1: Love You, Scream It
Edit
| | |
| --- | --- |
| Duration: | February 14, 2013 |
| Details: | Shout your devotion through HERO INVITATION! Players will receive rewards for yelling during Hero Invitation |
| Rewards: | Heavenly Origin Soul Pill x 2 for each Yell |
Event 2: Forum Event: Show Love
Edit
| | |
| --- | --- |
| Duration: | February 14–17, 2013 |
| Details: | During the event, make screenshots from game to show love emotions and post on forum, then will have chance to win price of: gold, VIP, horse, cloth set, flying skill |
| Rewards: | Snail Forum admin will randomly pick up 5 winners to obtain: |
Event 3: Deals for the 1st Time
Edit
| | |
| --- | --- |
| Duration: | February 14–17, 2013 |
| Details: | Looking for a bit of an incentive to make that first Gold Purchase? We will be offering special bonuses to any player who purchases gold for the FIRST TIME on their account. |
| Rewards: | |
Event 4: Wushu Partnership
Edit
| | |
| --- | --- |
| Duration: | February 14–24, 2013 |
| Details: | During the event, Team up and complete Forbidden instance and Team practice will gain cultivation pill, experience transfer pill |
| Rewards: | |
Event 5: Script Overstock
Edit
Duration:
February 14–17, 2013
February 22–24, 2013
Details:
More scripts in the library of schools make for more skills to steal. For these days we will be increasing the amount of scripts available in the "School Robbing Event" from 500 to 1,000
Event 6: Silver Linings Skillbook
Edit
Duration:
February 14–17, 2013
February 22–24, 2013
Details:
During this time,All players can use 200% of the amount of Silver Coins to practice Martial Arts. If the player already has the 200% buff, then he/she will get a 400% buff instead.
Event 7: EXP Double-UP!
Edit
| | |
| --- | --- |
| Duration: | February 14–24, 2013 |
| Details: | We will be increasing all ways for getting experience by 100%! However, the daily experience cap will remain the same. So find that juicy double before you get in trouble. |
References
Edit
Ad blocker interference detected!
Wikia is a free-to-use site that makes money from advertising. We have a modified experience for viewers using ad blockers

Wikia is not accessible if you've made further modifications. Remove the custom ad blocker rule(s) and the page will load as expected.